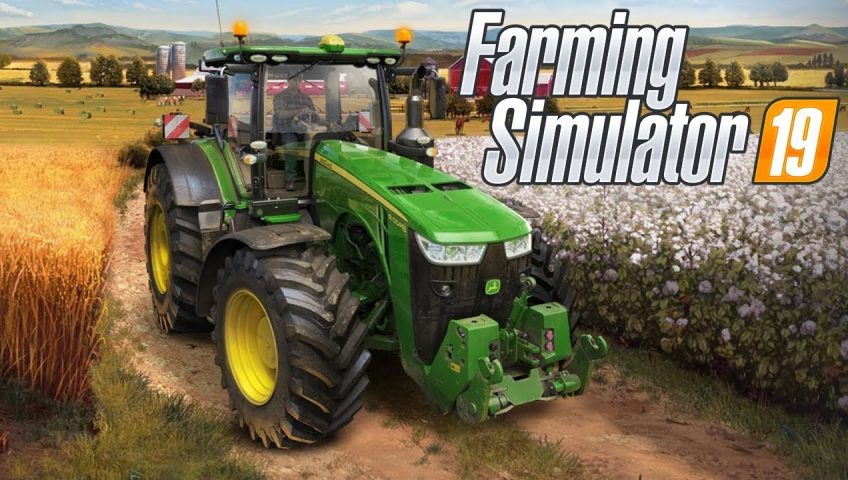 Introduction Of FS19 – Farming Simulator 2019
FS19 Farming Simulator is so realistic to real life farming. With all the tractors like John Deere, FarmTrac, good old Ford, New Holland, International, Massey Ferguson etc. And with all the Harvesters you can think about. Realistic Dairy's with Cows and trailers. So many more equipment's you can use.
---
If anyone's surprised by the appeal of running a virtual farm and delighting in the minutiae of its mechanical equipment, they shouldn't be. The Farming Simulator series demonstrates our love for seeing the familiar recreated meticulously, and the irresistible satisfaction of mastering machinery to turn a tidy profit. Farming Simulator 2019 brings a bumper crop of new features, each of them bringing you closer to the freshly ploughed fields and neatly stacked hay bales of your virtual farm than ever before.

BUILD YOUR OWN FARM
This is the big new feature. Rather than buying fields, you now purchase parcels of lands with fields within them. Those parcels might also contain forests and meadows, which you can cultivate once you own them. Three maps are playable in total: the South American map returning from Farming Simulator 2017, and two new maps: Felsbrunn and Ravenport.
NEW ANIMAL FEATURES
Man's best friend, the humble hound, joins you in the latest instalment of Farming Sim, keeping you company as you do your rounds and making the inherent stress of managing an agricultural empire that bit more manageable by being a good boy. In addition, birds now feature on the landscape and will follow the seed drill from time to time. You don't need to worry about them pecking into your profit margin though – they're just an aesthetic touch. In equine news, horses can not only bekept but ridden around as you explore the world. Just don't make sure your doggo doesn't get too jealous.
NEW CROPS WITH DESTRUCTION
Oats and cotton join the ranks of your potential crops in Farming Simulator 19, and for the first time fruit/crop destruction is implemented in the base game (previously it was a popular mod). This feature can be disabled in the in-game options, however.
VEHICLE INTERIOR ANIMATIONS
Your character now moves around inside the vehicle as you would if you were operating it, bolstering that immersion factor. Accelerating, braking, and steering now all feature bespoke player animations.
NEW EQUIPMENT
This is the biggie. Machinery from John Deere, and Elmer's Haulmaster, makes an appearance, and that's the big headline news. The community's been clamouring for a John Deere tractor for a long time now, and FS19 is the game to deliver it. Elsewhere on the manufacturer list you'll find Case IH, New Holland, Challenger, Fendt, Massey Ferguson, Valtra, Deutz-Fahr, Krone, Horsch, ROPA, Kuhn, and Ponsse. In terms of specific equipment, the AGCO / Fendt Ideal combine harvester, John Deere 8400 R tractor, Horsch cultivator, Elmer's HaulMaster transporter and the Case IH Module Express 635 cotton harvester all feature. You can view all equipment as 3D models in the shop now, also.